Press Release
Zana is WINNER at Chatbot & Voice Summit Startup Competition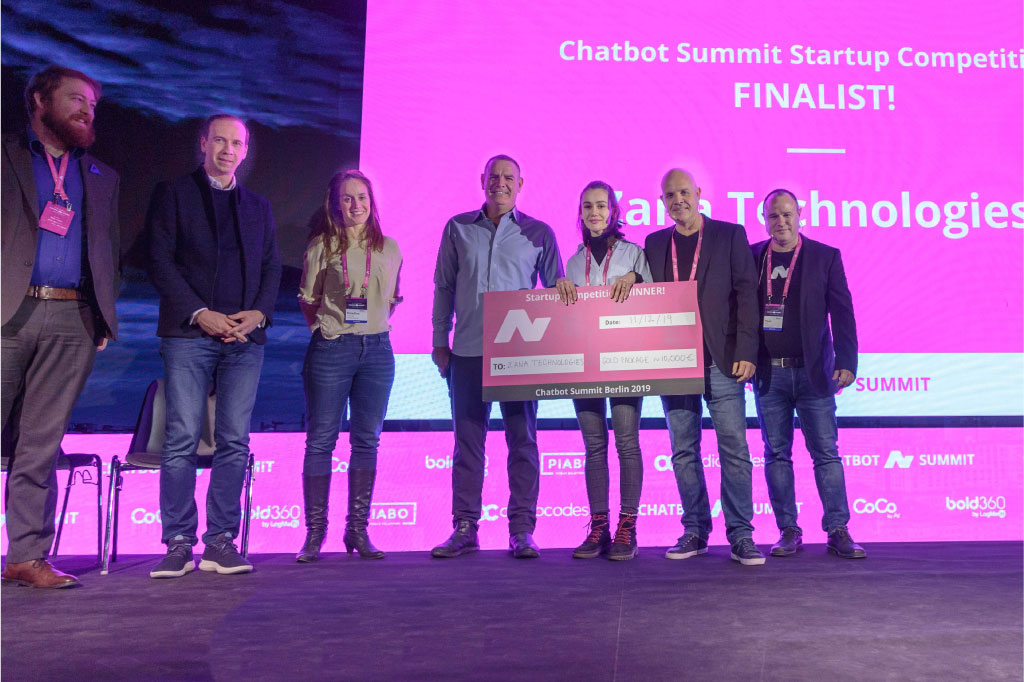 Chatbot & Voice Summit Berlin 2019
Berlin, December 12, 2019; We are happy to announce that Zana Technologies GmbH is the winner at Startup Competition of Chatbot & Voice Summit Berlin – now in its 6th international edition, this event is renowned as the world's #1 Bot conference and succeeds in bringing together industry leaders and the global community of chatbot and voice tech builders. Our lead software developer and the architect behind ZANA's NLP stack Julia Dungu presented Zana AI on stage. Among a number of high competitive startups she was awarded winner of the competition, bringing home an additional Golden Package reward in the amount of 10,000€.
About Chatbot Summit
Chatbot Summit is the world's leading international event series connecting the eminent professionals and organizations who believe natural language will be the next curve in digital experiences. The event is held every year with the aim of creating meaningful connections between 3500+ professionals from top consumer brands, technology leaders, innovative startups and service providers. Chatbot Summit 2019 was organized in Berlin and starred keynote speakers from Google, SAP, Vodafone and a lot of other corporations.
About Zana Technologies GmbH
Zana Technologies GmbH is an award-winning hight tech start-up based in Germany that offers cutting-edge conversational AI. Our flagship product is oriented toward digital healthcare and enables a comprehensive remote health monitoring. The product offering is an intelligent voice assistant that is used to establishe a direct bridge between patients and doctors. ZANA AI combines active conversation in natural language with real-time monitoring through connected devices, all from the comfort of a patient's home through a Smartphone or smart home device. ZANA's backend collects and presents the monitored patient's data through an innovative dashboard system that updates doctors about their patient's health
continuously and securely.
FOR FURTHER INFORMATION PLEASE CONTACT:
Dr.Ing- Julia Hoxha, Chief Executive Officer
+ 49 1575 2460093
julia.hoxha@zana.com
https://zana.com
Article Metadata

Date Published: Thu, 12 Dec 2019

Author: Zana Technologies GmbH

Publisher:

Zana Technologies GmbH

https://zana.com

---