About Zana
Remote Patient Monitoring
The solution with Zana expands care beyond the walls of healthcare providers, as an AI companion establishing a direct bridge between patients and doctors. Almost 90% of the patient's journey occurs outside the hospital or doctor's office. Our innovative remote care solution is designed to improve and lower costs of post-operative and chronic care.
Zana combines active conversation in natural language with real-time monitoring through connected devices. All of this from the comfort of a patient's home, through a smartphone or smart home device. On the other side, an innovative dashboard system updates doctors about their patient's health continuously and securely.
How does it work?
Through a conversational interface, continuous monitoring with smart wearables and machine learning, Zana gathers a holistic view on patient's health.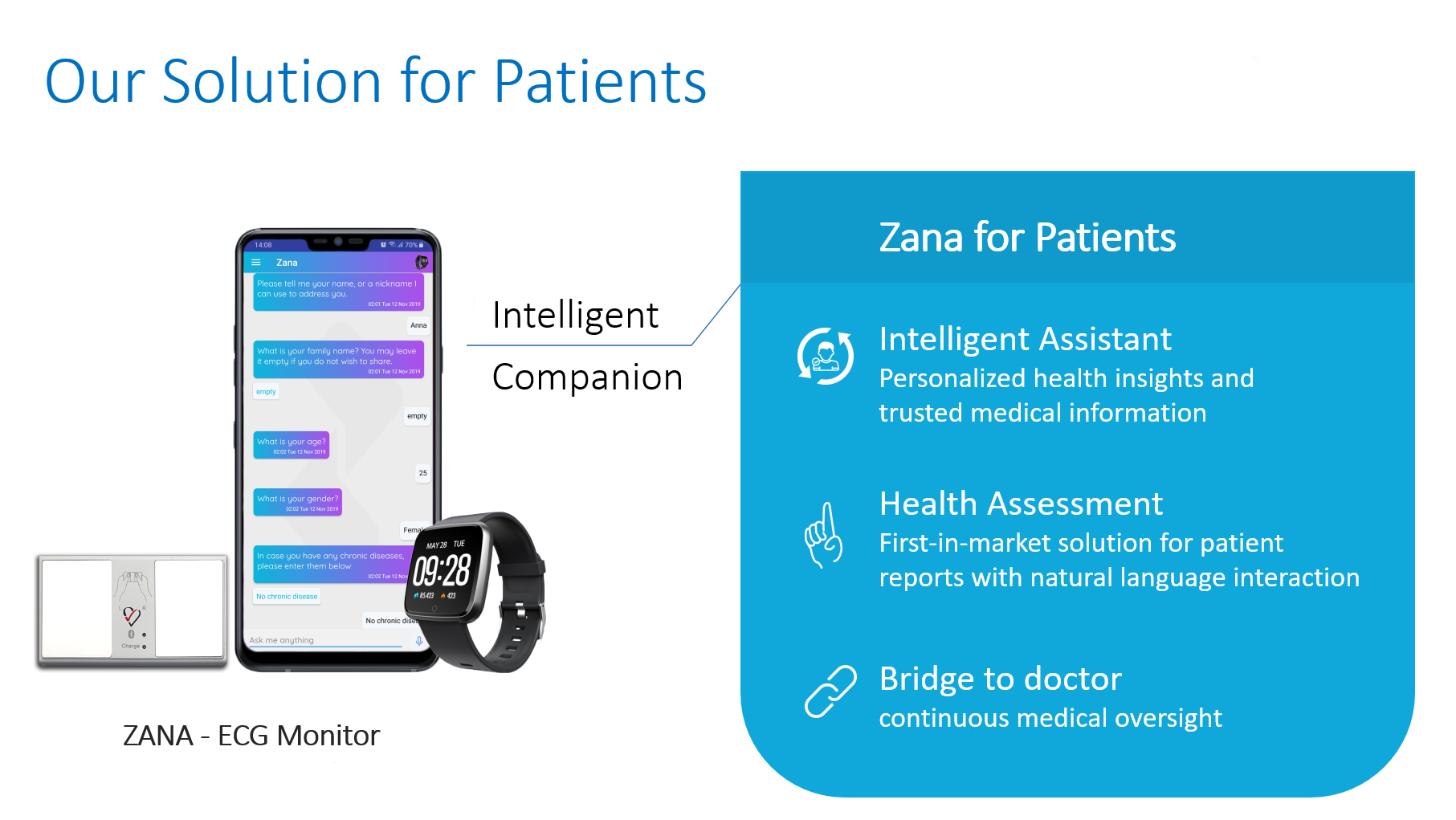 Patients are equipped with Zana smartphone app connected to wearable devices (smartwatch, ECG monitor). Zana is able to read data from such health trackers in the background.
Additionally, the voice-enabled mobile assistant converses with patients in order to assess their well-being and answer their questions with trusted medical information. Patient-reported outcomes are recorded via text or voice conversation with Zana, based on rigorous clinically-validated Quality of Life protocols.
Zana for doctors and health insurance companies
On the other side, healthcare providers and payers benefit from the extension of our solution, named ZanaConnect – a dashboard that enables continuous monitoring of patient's health.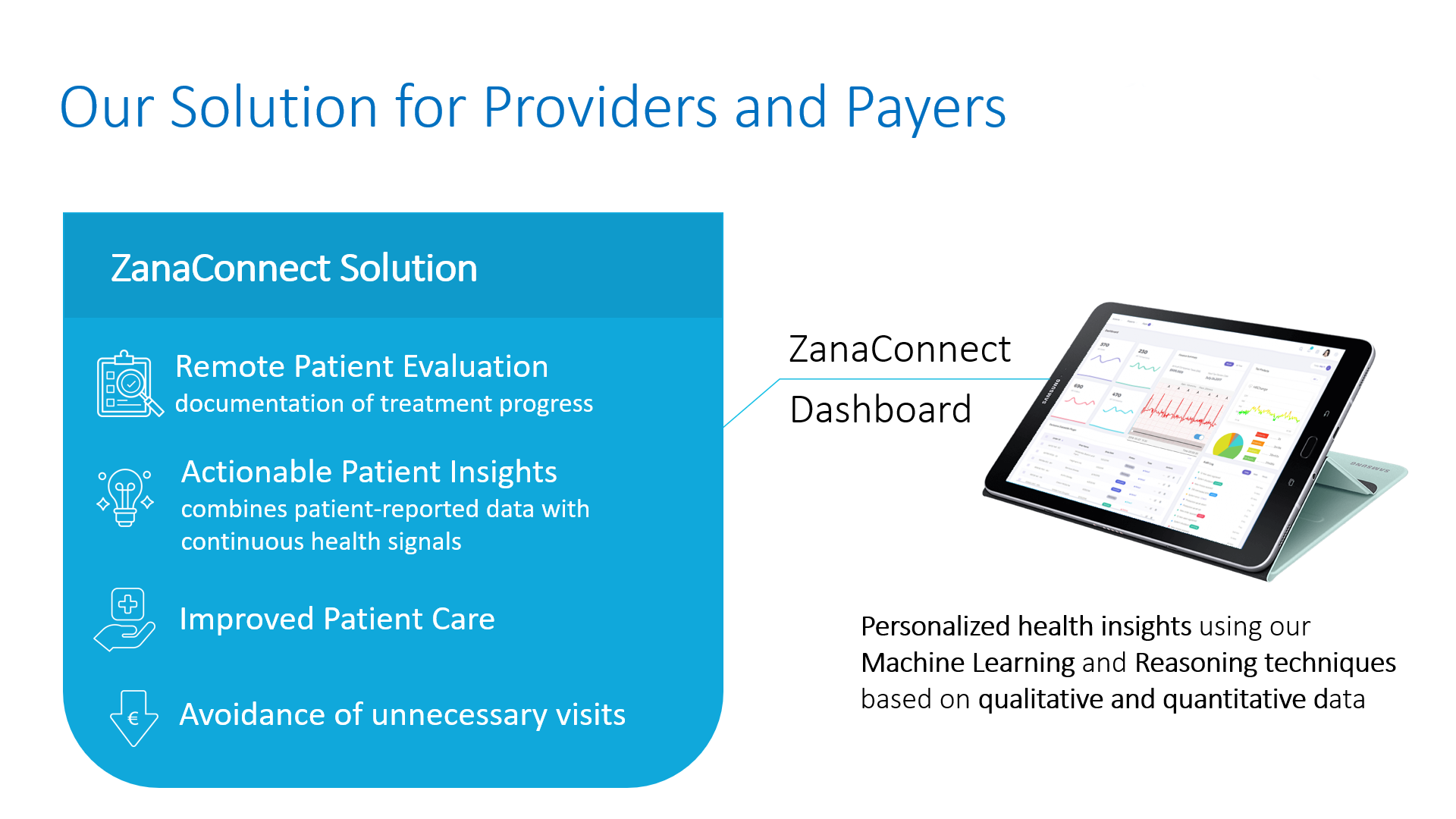 ZanaConnect bridges the gap between patients and doctors, allowing the latter to evaluate patients remotely. This digital component expedites the documentation of the treatment progress, by providing personalized insights on the patient's health. These insights are compiled using Machine Learning and Reasoning Techniques based on both qualitative and quantitative data.
Who benefits and how?
Benefits for post-operative patients
Zana allows for close follow up procedures in the early postoperative period.
Enables the prevention or in other cases, the detection of complications during early, low-risk stages.
Provides continuous medical support.
Helps lower the number of unnecessary ambulatory visits
Contributes to a better quantification and evaluation of changes in symptoms and quality of life in the rehabilitation phase.
Zana makes use of remote diagnostic devices to assess organ function and metabolic changes.
Benefits for patients with chronic diseases:
Provides critically necessary remote medical follow-up in order to avoid unnecessary ambulatory visits.
Identify the necessary changes to the treatment regimen that are needed in accordance with the progression of symptoms and signs.
Zana makes use of remote diagnostic devices to assess systemic health and response to therapy
Benefits for Doctors
Doctors have direct access into their patient's health profile - allowing them to improve patient care and avoid unnecessary visits, thus ensuring a better quality of care.
Not all patients suffer equally. Treatment needs to be tailored to individual needs, and effective prevention strategies require constant, adaptive follow-up.
Zana helps save time by ensuring:

Possible remote check-ins
Faster generation of reports (ZanaConnect Dashboard)
Benefits for Payers
By making chronic and post-operative care safer and more reliable, Zana saves up to 894 EUR for each heart failure patient in cost avoidance by facilitating:

lower readmissions
shorter hospital stays, replaced instead by 1-3 days of comprehensive monitoring
reduction of GP/specialist meetings
remote check-ups conducted with a 25% reduction in cost
Current state:
We are cooperating with two clinics, one in Germany (Universitäts Herzzentrum Freiburg-Bad Krozingen) as well as one in Italy (Columbus Clinic Center). This collaboration is being done to pilot test Zana with their post- heart surgery cardiac patients.
We are currently looking to collaborate with a number of other clinics and healthcare providers.
Zana has received several prestigious awards and grants, among others EXIST Start-Up Grant, INNOLABS award, TechCrunch Top Pick in Health at Disrupt Berlin, NOAH18 Startup winner. We are proud to be operating in collaboration with renowned partners, such as the European Medical Association, the European Institute of Neuroscience, etc.
Article Metadata

Date Published: Wed, 9 Jan 2019

Author: Zana Technologies GmbH

Publisher:

Zana Technologies GmbH

https://zana.com

---