About Zana
Remote Patient Monitoring
The solution with Zana expands care beyond the walls of healthcare providers, as an AI companion establishing a direct bridge between patients and doctors. Almost 90% of the patient's journey occurs outside the hospital or doctor's office. Our innovative remote care solution is designed to improve and lower costs of post-operative and chronic care.
Zana combines active conversation in natural language with real-time monitoring through connected devices. All of this from the comfort of a patient's home, through a smartphone or smart home device. On the other side, an innovative dashboard system updates doctors about their patient's health continuously and securely.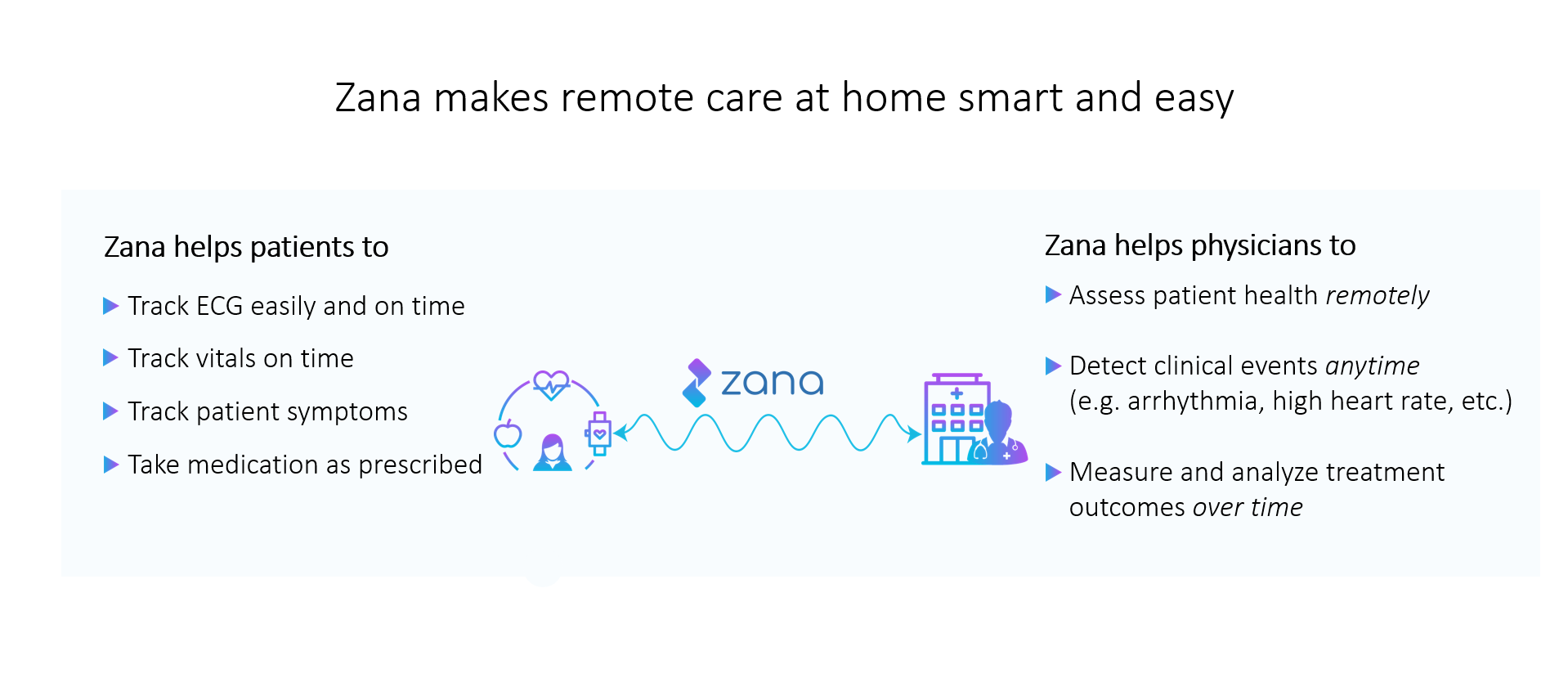 How does it work?
Through a conversational interface, continuous monitoring with smart wearables and machine learning, Zana gathers a holistic view on patient's health.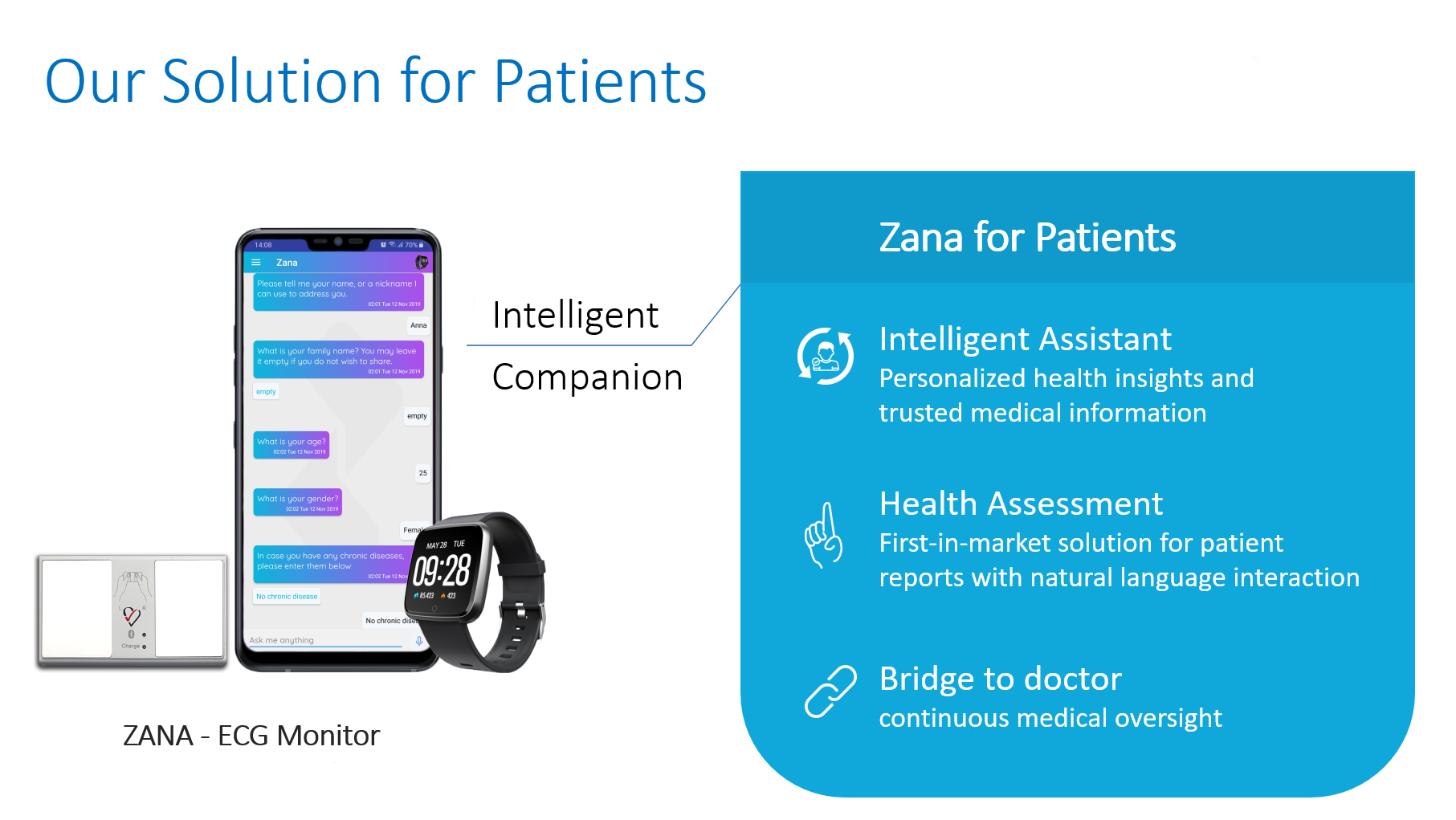 Patients are equipped with Zana smartphone app connected to wearable devices (smartwatch, ECG monitor). Zana is able to read data from such health trackers in the background.
Additionally, the voice-enabled mobile assistant converses with patients in order to assess their well-being and answer their questions with trusted medical information. Patient-reported outcomes are recorded via text or voice conversation with Zana, based on rigorous clinically-validated Quality of Life protocols.
Zana for doctors and health insurance companies
On the other side, healthcare providers and payers benefit from the extension of our solution, named ZanaConnect – a dashboard that enables continuous monitoring of patient's health.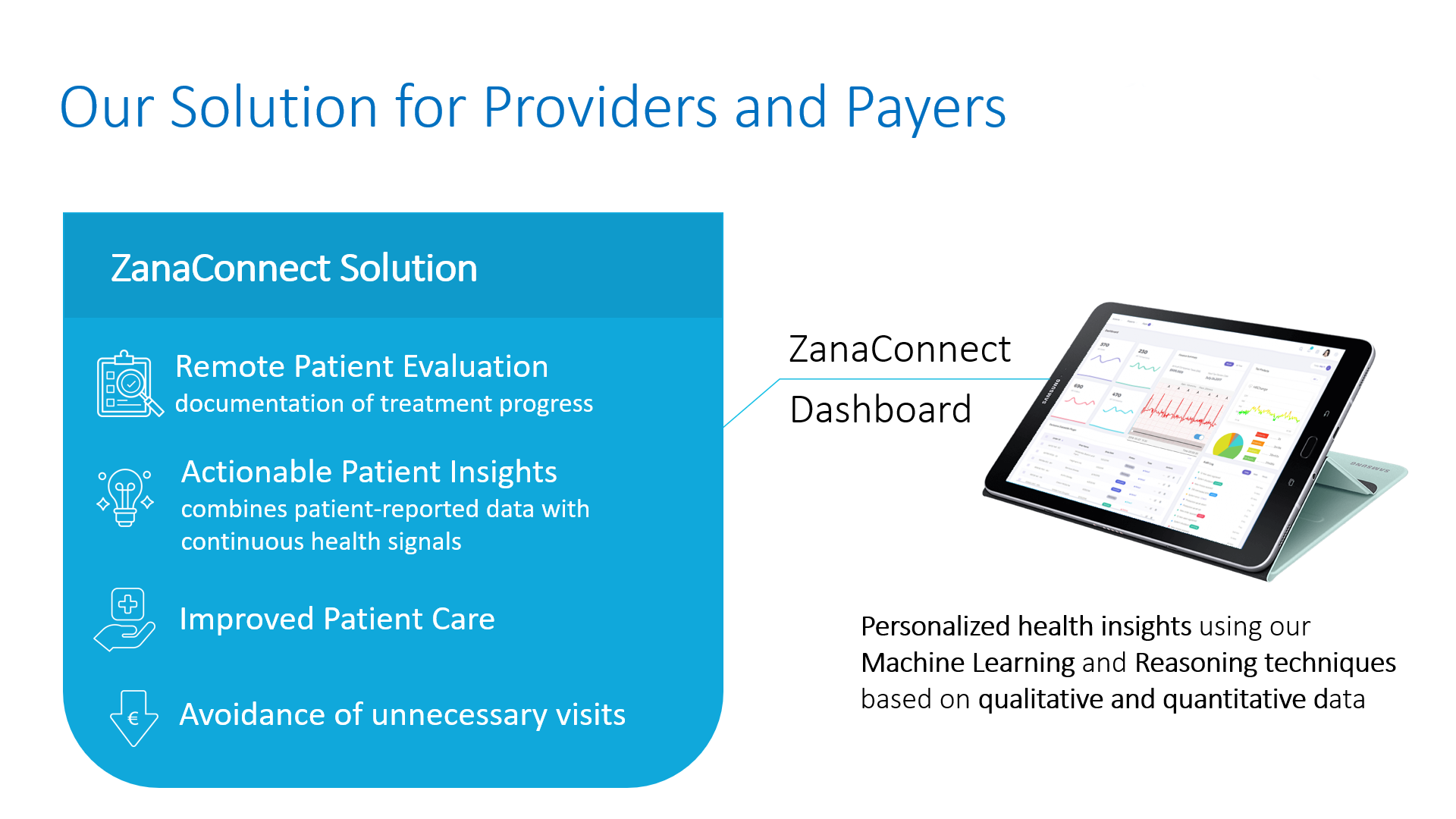 ZanaConnect bridges the gap between patients and doctors, allowing the latter to evaluate patients remotely. This digital component expedites the documentation of the treatment progress, by providing personalized insights on the patient's health. These insights are compiled using Machine Learning and Reasoning Techniques based on both qualitative and quantitative data.
Who benefits and how?
Benefits for post-operative patients
Zana allows for close follow up procedures in the early postoperative period.
Enables the prevention or in other cases, the detection of complications during early, low-risk stages.
Provides continuous medical support.
Helps lower the number of unnecessary ambulatory visits
Contributes to a better quantification and evaluation of changes in symptoms and quality of life in the rehabilitation phase.
Zana makes use of remote diagnostic devices to assess organ function and metabolic changes.
Benefits for patients with chronic diseases:
Provides critically necessary remote medical follow-up in order to avoid unnecessary ambulatory visits.
Identify the necessary changes to the treatment regimen that are needed in accordance with the progression of symptoms and signs.
Zana makes use of remote diagnostic devices to assess systemic health and response to therapy
Benefits for Doctors
Doctors have direct access into their patient's health profile - allowing them to improve patient care and avoid unnecessary visits, thus ensuring a better quality of care.
Not all patients suffer equally. Treatment needs to be tailored to individual needs, and effective prevention strategies require constant, adaptive follow-up.
Zana helps save time by ensuring:

Possible remote check-ins
Faster generation of reports (ZanaConnect Dashboard)
Benefits for Payers
By making chronic and post-operative care safer and more reliable, Zana saves up to 894 EUR for each heart failure patient in cost avoidance by facilitating:

lower readmissions
shorter hospital stays, replaced instead by 1-3 days of comprehensive monitoring
reduction of GP/specialist meetings
remote check-ups conducted with a 25% reduction in cost
Current state:
We are cooperating with two clinics, one in Germany (Universitäts Herzzentrum Freiburg-Bad Krozingen) as well as one in Italy (Columbus Clinic Center). This collaboration is being done to pilot test Zana with their post- heart surgery cardiac patients.
We are currently looking to collaborate with a number of other clinics and healthcare providers.
Zana has received several prestigious awards and grants, among others EXIST Start-Up Grant, INNOLABS award, TechCrunch Top Pick in Health at Disrupt Berlin, NOAH18 Startup winner. We are proud to be operating in collaboration with renowned partners, such as the European Medical Association, the European Institute of Neuroscience, etc.
FAQs
ZanaConnect Dashboard FAQs
What is Zana?
Zana is a digital assistant that helps you and your caregiver to monitor anytime and anywhere.
Zana is always within your reach as an App in your smartphone. You may find Zana app at Android/Store and install it in your phone. Zana assistant takes it from there. Zana helps you further to create your profile, connect to wearables (e.g. Zana Healthwatch), answer health questions, and give you insight on your health.
Just ask Zana "help" and she will tell you what she is able to do and how you may benefit from Zana.
What is ZanaConnect Dashboard and why do I need it?
ZanaConnect Dashboard is a Web-based platform that enables you as user of Zana app or your caregivers to monitor your health remotely. In this platform, you are able to see in real-time all the health parameters that are tracked with Zana connected devices (e.g. healthwatch).
You are also able to see trends of the health data over time. For example, in your Dashboard you are able to get visualizations of the data tracked with your Zana Healthwatch such as the steps, heart rate, blood pressure and sleep over time.
If you need to share your health profile data with someone else, such as your doctor, a family member, or your caregiver, then you may simply give them access to your ZanaConnect Dashboard. In the Dashboard the person with whom you share your data is referred to as "Caregiver".
A powerful feature of the Dashboard ist hat caregiver not only gets real-time and continuous updates on your health data tracked in the app, but upon your consent they can also get more obvious notifications if some particular event occurs: e.g. blood pressure or heart rate is not within the normal expected range, or you constantly do not reach the set goals such as daily steps or expected sleep time.
This feature is powered through our intelligent analytics tools.
How do I get get access to ZanaConnect Dashboard?
As a user of Zana mobile app, you also get access to your ZanaConnect Dashboard through the app by asking Zana yourself.
Step 1. In the app, ask Zana:
"get access to ZanaConnect Dashboard" or "get access to dashboard"
"authenticate to ZanaConnect Dashboard"
Step 2. After providing your email address, Zana will send you an email with a link, which you may simply click to enter the Dashboard.
From there, just follow instructions to update your login information for further use.
Zana Healthwatch FAQs
What can I do if the bracelet is not searched as prompted?
First, check the bracelet is energized or not; Second, Put the bracelet near the mobile phone, and try connecting the bracelet.
If you are still unable to connect the bracelet by above operations, try switching off and on the mobile phone Bluetooth once, or restart the mobile phone.
Is the Bluetooth not connected accidently?
The connecting time may be different each time as the signal is disturbed in Bluetooth wireless connection. If it is not connected for a long time, make sure your operation is done in the place where there is no disturbance of magnetic field or Bluetooth device.
The mobile phone Bluetooth services become abnormal accidentally in re-starting up, so that the Bluetooth may not be connected.
The mobile phone Bluetooth is connected normally when you restart the mobile phone.
Why is there no vibration of the bracelet to remind me after setting the
notification of incoming call?
First check the mobile phone Bluetooth is switched on and the bracelet is connected or not; Second/ check the bracelet APP is running (or backstage running) for Android system.
Note: FLY memory cleaner and some keeper software may clean or intercept tasks, please add APP to the white list.
Why doesn't the bracelet receive message push?
You have to confirms that a switch for message push is opened on the phone client.
You have to confirm that message can be displayed normally in the mobile phone notification bar. The message push on the bracelet is completed by reading the message from the mobile phone notification bar; the bracelet will not receive the push if there is no message in the mobile phone notification bar (you need to find notification settings in the mobile phone settings, turn on the notification switch of WhatsApp, Facebook, SMS and mobile phone client)
You have to open the auxiliary function settings of the bracelet client. (You have to find auxiliary function in mobile phone settings, open the auxiliary function settings of the bracelet client)
Why does my heart rate measure fail?
Note to keep the user in a quiet status in measuring heart rate, and keep the bottom of bracelet losely attached to the arm without obvious gap. Don't wave arms during measurement.
Why do blood pressure values deviate from blood pressure monitor?
The deviation between the measured values of the bracelet and the blood pressure monitor is determined by many factors. The blood pressure monitor is located in the brachial artery and the bracelet is located in the two main branches of the arterioles.
Under normal circumstances, there will be a difference between the aortic and arterioles blood pressure measurements, about 3 to 40; if you use a bracelet and a blood pressure monitor to measure at the same time, because blood flows in the artery in a centrifugal direction, the bandage of the blood pressure monitor keeps the part right below the middle of your elbow under pressure and temporarily prevents the blood from flowing smoothly down the lower branch of the artery; and increases vascular tension, which will cause greater deviation between the upper and lower blood pressure measurements.
Why can't you wear the bracelet to take a hot bath?
Bath water temperature is relatively high, there will be a lot of vapor, and vapor is in the gas phase, with small molecular radius, it is easy to infiltrate from the shell gap of the bracelet; when the temperature drops down, it will condensate into liquid droplets, which will easily cause short circuit inside the bracelet, damage the ring circuit board, and then damage the bracelet.
Warning!
Please consult your doctor before you take part in a new sport.
ECG device FAQs
Coming Soon!
Article Metadata

Date Published: Wed, 9 Jan 2019

Author: Zana Technologies GmbH

Publisher:

Zana Technologies GmbH

https://zana.com

---